Bad Credit? No Credit? No Problem!
Along with selling and leasing an unrivaled selection of reliable and exciting Mitsubishi models, we here at Basin Mitsubishi also strive to make for a most seamless and positive customer service experience no matter the circumstance.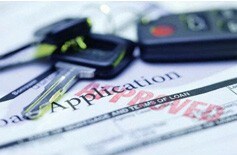 We're well aware that not all our customers and drivers throughout Midland, Odessa, Andrews, Big Spring, TX and Hobbs have the same credit history. One of our goals as a team here at Basin Mitsubishi is to assist our customers who have no credit (or not the most desirable credit), in finding the vehicle that they want and need in their daily lives. We've got an impressive and vast selection of new Mitsubishi models, used models and a helpful bargain inventory page if you're operating on a tighter budget. Our expert team will learn about what you're searching for in a vehicle and help guide you to the best possible choice for your budget. If you already know what you're looking for then we'll make sure we begin the purchasing or leasing process right away.
Driving home with the Mitsubishi you can look forward to regardless of your current credit situation is always a great feeling. You'll feel totally at ease as our finance center works out the perfect financing plan for you, your credit history and your personal budget. Again, just because you may not possess the best credit or even have no credit we're here to ensure you're still able to purchase or lease the car you've had your eye on. We'll sit down and devise a financing solution that is catered specifically to your current status and budget, allowing for affordable monthly payments that work for you. We also aim to make your time with straight to the point, you'll never worry that you'll spend too much time out of your day working out the details with us. We want you to drive away with your new or used vehicle feeling stress-free and satisfied with every part of the process.
We'd love to help you find the vehicle and financing plan that works best for you as soon as possible. Come on down and see what we've got to offer whenever you'd like and we'll put you behind the wheel of your ideal model right away.